Esraa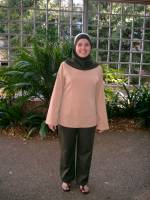 My name is ESRAA, I was born in Kuwait, then my family moved to Jordan so I have a Jordanian passport. I'm 27 years old, married. My husband Fathi is Jordanian too. He is 39 years old.


I have been in Australia since 16/4/03. I live in Brighton-Le-Sands with my husband. I study English at TAFE. In my country I was a hairdresser.
Im 155cm tall and weigh 57 kg . I have a round face with big brown eyes, an average nose and a nice mouth. In this photo I'm wearing green pants, a beige blouse, a green and beige scarf, and brown sandals.


I'm a friendly girl.
Labels: ESL, ESOL, multiculturalism, p2p