Our Excursions

Our Excursion to Vaucluse House
Before the winter holidays, our class and Therese's class went to Vaucluse House. We were lucky with the weather. It was a beautiful sunny day and we were able to have a fantastic picnic next to the beach.


Vaucluse House

Write about our excursion. Remember this is a recount:

Orientation + Events + Re-orientation + (Comment)

Use:
Simple past + Expressions of time and place + Specific participants (nouns or pronouns)


You can read the following text by a student of English from AMES Parramatta by clicking on this link:

An Unforgettable Day

Our Excursion to Mrs Macquarie's Chair

On Monday 20th September 2004 some of the students in our class went to Mrs Macquarie's Chair in the Botanic Gardens. These are some of the photos from that day.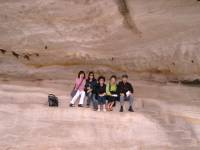 Huge Rock ..................................Big Fig Tree ..


Botanical Gardens Gate

If you went along, please write here about the day. We want to know what you did!



Labels: ESL, ESOL, multiculturalism, p2p